The 2021 Subaru Love Promise Customer and Community Commitment Award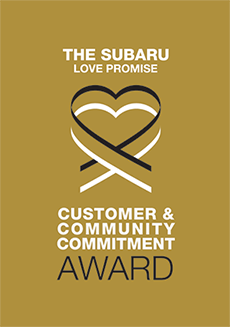 We've been nationally recognized for our dedication to our customers, our community, and the Subaru Love Promise.
We're honored to receive the 2021 Subaru Love Promise Customer and Community Commitment Award. This award nationally recognizes elite Subaru retailers who provide an exceptional customer experience at every interaction with Subaru. These retailers have also demonstrated an outstanding commitment to supporting passions and causes in their local communities in important areas such as the environment, community, health, education, and pets.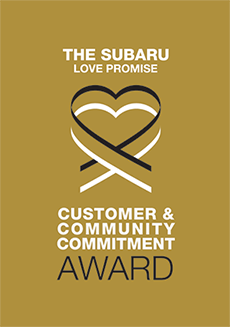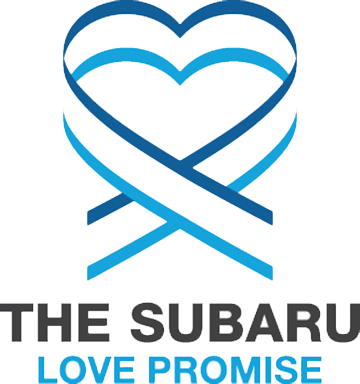 What is the Subaru Love Promise?
Subaru and our retailers believe in making the world a better place and the Subaru Love Promise is our vision of respecting all people. This is our commitment to show love and respect to our customers and to work to make a positive impact in the world.
How is Stivers Decatur Subaru dedicated locally to the Love Promise?
Our Love Promise can be seen in various partnerships with local charities and non-profits. We're grateful for the opportunity, not only to be a part of our community, but to serve it as well.
Paideia School, Adaptive Learning Center, Sarah Smith Elementary FREE BOOK DONATION!
Pounding the Pavement for Peter 5K
Love Promise Stories from Stivers Decatur Subaru
Subaru and Stivers Decatur Subaru believe in making a positive impact on the communities in which we live and work. We uphold that belief through our Love Promise Community Commitment. Every month, we select inspiring stories from customers and partners from around our area who strive to support our collective commitment and feature them here
VETERANS "HOW" 2020 - ALICIA T
Since 2008, Veterans Empowerment Organization has helped veterans create better lives for themselves and their families. Our mission is to empower veterans along their journey to self-sufficiency, providing Housing, Optimal wellness (including addiction recovery and mental health services), and Workforce & Income Development for our veterans. Customizing our treatment approach and providing wraparound services designed for the specific needs of each veteran is HOW we ensure permanent success. We are incredibly grateful for the very generous gift of blankets recently donated by Stivers Decatur Subaru. With the winter months in arm's reach, offering each of our residents a warm blanket for their beds is truly a blessing. Veterans Empowerment Organization acknowledges with gratitude the rich relationships with many who have united with us to advocate for these veterans. We could not possibly have the same impact in our work without each of our dedicated partners. Together, we will journey alongside each of them, honoring their sacrifice and helping them lead a life of dignity and hope. With gratitude, Alicia
---
Stivers Con't to Support When Things Go Virtual - Morgan S
Every year, Johnny Stivers and Stivers Subaru are one of the first supporters to sign up for Pound the Pavement for Peter, a family friendly 5K supporting the special needs community. 2020 was no different. In January when registration opened, Stivers Subaru immediately jumped in as a Presenting Sponsor and began preparing to attend the annual event. Typically, Pound the Pavement for Peter takes place in March at Capital City Club and has over 700 participants. The event includes family games, activities for the kids, 5K inclusive family run/walk around the neighborhood and wraps up with awards and prizes. This is an event that everyone looks forward to annually. When March 2020 arrived and the world shut down, so did Pound the Pavement for Peter as an in-person event. Peter's Pals, the planning committee for PPP, quickly pivoted and turned the event in to a virtual weekend race. With this shift, PPP offered their sponsors a refund since the event would not be held in person. Amazingly, refunds were not requested and individuals participated virtually in the race weekend and shared their excitement on social media to help raise awareness. Together, Pound the Pavement for Peter's supporters made it possible to continue to make a difference for these children and our beneficiaries by raising over $140,000. Proceeds from this year's race went to fund 3 critical aspects to realizing the potential and hope for these families – Research, Medical Care and Inclusion in Education. The specific charities we will support this year are the Global Foundation for Peroxisomal Disorders, The Adaptive Learning Center, and Children's Healthcare of Atlanta. "Stivers Subaru and Johnny Stivers have been incredible partners in making an impact for children with disabilities in this community. Johnny's heart for giving back to the community is steadfast – even in the face of the uncertainty of what 2020 would bring from a business perspective. We are deeply appreciative of his support through the years." – Anne Park Hopkins, Peter's Mother and Founding Member of Pound the Pavement for Peter To learn more about Pound the Pavement for Peter, please visit www.poundthepavementforpeter.com.
---
TOYS FOR TOTS 2020 - LARRY H
Stivers Decatur Subaru teamed with Metro Atlanta Automobile Dealers Association supporting the 2020 Marine Corp Toys for Tots Drive. To say the drive was a huge success would be an understatement. The outpouring of support from our community was overwhelming. The dealership had the customary toys for tots boxes located in the main showroom and in the service customer area, those boxes were filled to capacity and toys were over flowing in the showroom. Once the toys were picked up Shane Lance received a phone call from a generous donator who delivered an entire school bus filled with toys to the dealership on Saturday Dec 19, 2020. Monday December 21, 2020 Shane organized delivery of the toys to the Toys for Tots Distribution center. His team of sales professionals and staff filled 3 Subaru Ascents and proudly delivered the toys. We are grateful and humbled by the support of our community.
---
Stivers helps expand Inclusion Program - Charles S
Once again, Stivers Decatur Subaru has made a significant financial donation to The Adaptive Learning Center (ALC) to aid in the continued growth of their Preschool Inclusion programs. Due to their immense generosity, ALC will now be able to open a new relationship with YMCA's Early Learning Program. With the funds from Subaru's Share the Love Campaign, ALC has been able to establish a new program inclusion model designed to reach more teachers, students and families. ALC supports children with varying challenges and learning needs, including Autism Spectrum Disorder, Down Syndrome, Cerebral Palsy and general Developmental Delays, to be successful in the typical preschool classroom. ALC places a qualified individual specializing in preschool inclusion strategies with multiple identified children and teachers to help naturally facilitate inclusion. The beauty of this particular inclusion model is that it not only supports the identified children, but brings about early experiences for all children to accept differences, compassion and greater empathy for others. The children served through the ALC case-load may receive services within days of being identified and receiving parent permission, eliminating the often months-long waiting period for support. Early intervention is critical to identifying children and setting them up for future success as they move through school. Stivers dedication to inclusion for children with special needs and teacher training makes a lifetime of difference for all involved. ALC could not continue to support students and teachers without incredibly generous donations such as these.
---
2019 Inclusion Award given to Johhny Stivers - Charles S
The Adaptive Learning Center (ALC) Inclusion Award was created to recognize individuals and organizations that have gone above and beyond supporting the Metro Atlanta Community with contributions and efforts to create an environment of inclusion for those individuals experiencing challenges or stressful environments. This award is not given out every year but is decided through a committee on an individual basis. This year we recognize Johnny Stivers and the entire team of Stivers Decatur Subaru for their commitment to the Atlanta Community with a spirit of acceptance and inclusion. ALC supports children with special needs in typical preschool classrooms so they can learn alongside their typically developing peers. ALC places a special-ed teacher with the child in the typical classroom to make the program successful. This is revolutionary! It not only helps the children with challenges because they are being mentored by their typically developing peers and this also impacts the typically developing children by helping them experience differences in each other and develop empathy, acceptance and compassion for others.Stivers has dedicated his dealership to supporting ALC with the "Share the Love" campaign over the last 5 years. Because of this dedication there have been thousands of people impacted. Specifically over the last 5 years ALC has provided educational support to 197 children with behavioral challenges and special needs in 146 inclusive preschool classrooms throughout the metro Atlanta area. ALC has also been able to train 292 classroom teachers how to integrate children with special needs into their classrooms supporting 2,335 students. Congratulations to Johnny Stivers and the entire Stivers Decatur Subaru sales team on receiving the 2019 ALC Inclusion Award.
---
Make a Dog's Day - Andy A
Subaru is proud to establish the first-ever National Make A Dog's Day October 22nd. As part of Subaru Loves Pets month, we're inviting all dog lovers to do something extra special for their furry best friends. Plus, Subaru will be focusing our efforts on helping the hardest-to-adopt shelter Dogs –those with special needs-find homes. Get ready to fall in love withThe Underdogs. #MakeADogsDay Meet Gabi! Gabi has been at the Humane Society of NWGA (Northwest Georgia) for seven years. If you asked the volunteers to pick their favorite animal at the shelter, Gabi would win hands down. She does not do well with dogs or cats so must be the only animal in an adult only family. She loves people and will bond very quickly to you. Gabi would make someone a great companion. She is waiting patiently for her forever home. If you have room in your heart and your home for this sweet girl then please fill out an adoption application, highlight and right click this link: https://hsnwga.org/adoption/application-for-adoption/?fbclid=IwAR2Ie18p6U3ryKi-niIuIZFTd-waD98xrySl7IJmiRBXE239WP7dpODubiU #MakeADogsDay #SubaruLovesPets #TheUnderdogs
---
Team Tommy - Charles S
Stivers Decatur Subaru does it again, all for Inclusion! The ongoing support from Stivers Decatur Subaru to The Adaptive Learning Center's Inclusion Program prompted a preschool class to go to big with one of their friends. The Preschool at PRUMC went all out for National Down Syndrome Day! GO TEAM TOMMY! was the theme of the day. All of Tommy's classmates celebrated their love and acceptance for Tommy by sporting "Team Tommy" shirts (teachers AND every friend in the class). After some playtime, Mrs. K led a wonderful and impactful lesson on being "different." She brought up pairs of friends and talked about different hair color, eye color, height, length of fingers, shapes of faces, ways we talk. Every time the kids pointed out a difference she ended it with "different is OK, different is JUST different." Then she read a really sweet story called When Emma Met Charley. It's about a boy who meets a girl in a wheelchair whose arms and legs look "different." The story goes through ways she's different, the same and why being different isn't weird, bad, sad or strange… it's just different. Mrs. K was eloquent in her delivery and very natural. The message was delivered perfectly for our friends. The kids were interested, asked questions and were impacted by the story. They understood that today was a day to support wholeheartedly Tommy and accept EVERYONE's differences. It was followed up with a small lesson before playground. The class was asked if they knew WHY we were wearing "Team Tommy" shirts. Then the teacher asked if anyone had heard of Down Syndrome. Some friends took guesses, but no one was familiar. She told the class today was National Down Syndrome day. She got some confused looks (as expected). Then she bridged the lesson… "Remember when Mrs. K talked you about how we ALL look different, and have different things about us that make us who we are…" "These are things we are born with, like he has red hair, she has blue eyes. Did we choose the way we look, talk, learn (no!!.. some kids said, "God made us")" She explained as simply as possible that our bodies are made of tiny cells, our cells of something called chromosomes, and Tommy has an extra chromosome (47 vs 46) (reminded not bad, strange or weird… just different). She talked about ways Tommy is the same, ways he is different, and things he is great at. She also described him as having a superpower. A common trait of Down syndrome is exhibiting happiness and joy, increased empathy and hyperawareness to other's emotions and a strong desire for friendships and close bonds. She told them that his superpower was feeling and understanding his friend's feelings. "Tommy loves his friends, loves to be loved and is thankful for those who are kind, right Tommy? (he nodded yes with a huge smile). The kids were receptive, showed compassion and understanding. They are so glad to be a part of spreading awareness and kindness to young friends. Tommy was rejoiced as a beloved member in our classroom today! What a wonderful day for Team Tommy and INCLUSION awareness! Without Stivers Decatur Subaru's continued support for The Adaptive Learning Center over the years, preschool classrooms, like Tommy's, would not be thriving. Our community would be missing the wonderful message of inclusion and the ability to raise children with a foundation of acceptance for things that are different from them.
---
The Subaru Paideia Auction Crosstrek Giveaway - Paul B
Stivers Decatur Subaru graciously donated a 2019 Subaru Crosstrek to The Paideia School for their annual auction.
---
Stivers Supports HIES Golf Tourney - Johnny S
Stivers Decatur Subaru was the presenting sponsor for the 2018 Holy Innocents Episcopal School Golf Tournament. This year event was held at the Dunwoody Country Club in Atlanta Georgia. The proceeds from this golf tournament help fund the athletic department at HIES. Over 90- golfers attended this years event where Stivers proudly showcased the all-new 3 row Subaru Ascent.
---
Subaru Gives Hope and Warmth to Cancer Patients - Audrey S
On Wednesday, June 20th at 11:00am, Shane Lance with Stivers Decatur Subaru made a special delivery of 100 blankets and patient care kits to the Bone Marrow Transplant team at Winship Cancer Institute of Emory University Hospital. They were excited for the opportunity to partner with The Leukemia & Lymphoma Society to help bring hope and warmth to patients during treatment while raising awareness for blood cancer. Representatives from Stivers Decatur Subaru had the wonderful opportunity to meet two amazing blood cancer patients, Amy and Christopher. Amy is an 11 year Myeloma survivor. Available treatments were not effective in putting her cancer in remission so she is now enrolled in a CAR-T clinical trial under the treatment of Dr. Lonial. In the midst of fighting myeloma, her husband was tragically killed. She was forced to retire as she was no longer able to work. She has since fallen in love and remarried and has an amazing support system. She received her T cell infusion two days prior to this event and is optimistic, looking forward to sharing her experience to help other patients in the future! Christopher was diagnosed with Myeloma in 2017. It was smoldering but became more aggressive recently. In the spring, he began chemotherapy to prepare his body for stem cell transplant. He underwent an autologous transplant 2 weeks before the blanket delivery and says the side effects are manageable and he looks forward to being discharged soon! Amy and Christopher are two reasons why we love Subaru's Love to Care Program, seeing their bright smiles lightened up everyone's day.The Leukemia & Lymphoma Society wishes to thank Shane Lance of Stivers Decatur Subaru for taking time out of his busy day to facilitate this delivery, and making Amy and Christopher feel very special.
---